Mrs. Backers History


Mrs. Backers pastry shop was established in 1941. It is now in the third generation of the same family. The family history of bakers can be traced back 700 years. We still have the old recipes and old wooden cookie presses that were brought over to America from Germany. We have kept the same store design and colors that were originally here when we started, so the bakery has it's own original charming atmosphere.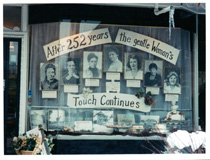 We are a full service bakery but we are especially known for our beautiful flowered cakes. Our flowers are all made out of our delicious butter cream frosting, and we have flowers that you cannot find in other places. This is because we custom designed our own decorating tips such as daffodils, sunflowers and others. We also make a large assortment of danishes, donuts, French pastries, cookies, cupcakes, brownies, lemon bars, raspberry cream cheese tarts, pies, éclairs, breads, and rolls. We have been making several styles and varieties of ginger bread cookies since we began in 1941. We are unusual because we make almost everything from scratch, and we do not freeze any products so they have a higher quality.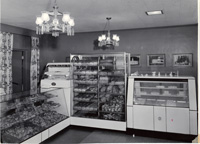 Not only do we provide you with delicious baked goods, we also give you access to some creative items to help you display our special treats. We have a large assortment of cake plates, aprons, and other food related items that delight your senses while you browse our bakery. Our decor and products change with the seasons. Daffodils can be found adorning our treats in the spring and then poinsettias for Christmas. These seasonal flowers appear on our cupcakes as well as our birthday cakes. We have a large assortment of cookies that we carry all year long and especially charming ones that we make special just for the holidays. We continue to create, enjoy, and carry on a very old tradition that we are delighted to share with you.